NEED INFO ON A MISSION TRIP?
BOOKING A TRIP?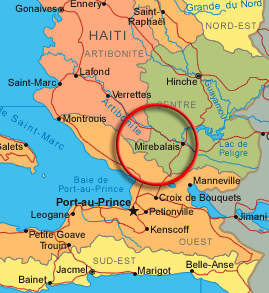 Heading To The Central Department
About an hour and 45 minutes from Port au Prince (In a good vehicle) team members will serve in our ministry area serving Mirebalais, Lascahobas, and Belladere. At this time we have seven churches, five schools, and thousands of kids we are serving.
A Sample Trip
Upon arriving in Haiti you will be taken directly to our guest house in Lascahobas. This will be approximately a two hour drive, but the scenery is breathtaking. The first night will be an evening of In-Country Debriefing.
The team will attend morning and evening services on Sunday. Your field missions work will begin on Monday and run through Thursday with a beach day on Friday (Saturday - Saturday trips). Most schedules allow for shopping before flying home on Saturday. The beach day is used to meditate on what God has done through you and your team during the week and to take home a mental picture of the actual beauty the country offers, and to experience the beautiful crystal clear waters of the Caribbean. (A team favorite)
You will be staying at the RTS Missions Guest House in Lascahobas. The RTS staff will ensure that you have healthy and reasonably comfortable living accommodations.
Vaccinations
A current tetnus shot is required. You should have one every 10 years
A typhoid vaccine is required. Check with your physician or your health department. A typhoid vaccine is good for 10 years
Malaria prophylaxis is strongy suggested.
Hepatitus A or immune globin is recommended by the CDC, but not required
A hepatitus B vaccination is recommended for medical project personnel only
Other medications, such as prescription Bactrim or Cipro are sometimes prescribed by your doctor for diarrhea. Over the counter Pepto-Bismol is also helpful. We recommend having Cipro with you if possible.
Cost Of Trip
Field Cost Per Person is $650
Prices include everything in the field (transportation, lodging, breakfast and dinner, drinks, security, translators, etc... Airfare is not included.
If you would like RTS Missions to handle your airfare, we utilize a Christian travel agent. The agent charges $25 per ticket to book the airfares. This fee goes to the agent and not RTS.
RTS Missions strongly suggest teams purchase missionarary travel insurance. It is only $25 per person for the week. It is definately worth the piece of mind. RTS Missions uses one of the top compainies in the country, Missionary Travel Association. They are not a broker and have their own medical jets. Their website is www.missionarytravelassociation.com.
*******Please note that we will provide breakfast and dinner. Please bring an ample supply of snacks for you to much on while we are out in the field. Both meals are hearty meals and we have not lost anyone due to the lack of a meal out in the field. We are very mindful of our surroundings and the people we are ministering to.
Thank you for your understanding.
If you have any questions or need help, please contact Beth Peifer.